Winterizing your RV and its systems in the fall will set you up for success in the spring! You will want to completely drain the water container in your Truma Combi anytime there is a risk of frost when your RV is not in use. This will prevent damage and ensure many years of happy camping. Once the water container is drained, your Truma Combi is protected against freezing conditions without any chemicals or special tools.
Step 1: Turn off the Truma Combi and allow the unit to cool completely.
Step 2: Depressurize the Truma Combi by turning off the pump or incoming water supply and opening all hot and cold water fixtures.
Step 3: The unit should be replaced in "Bypass mode" in accordance with the manufacturer's instructions.
Step 4: Place a vessel that can hold at least 2.64 gallons (10 liters) under the drainage outlet to catch water.
Step 5: To drain, flip the yellow handle "up" so it is in line with the valve body. The water container will drain via the drainage outlet of the drain valve. Make sure all of the water drains from the Combi. If the water does not drain, check the clear tube for obstructions.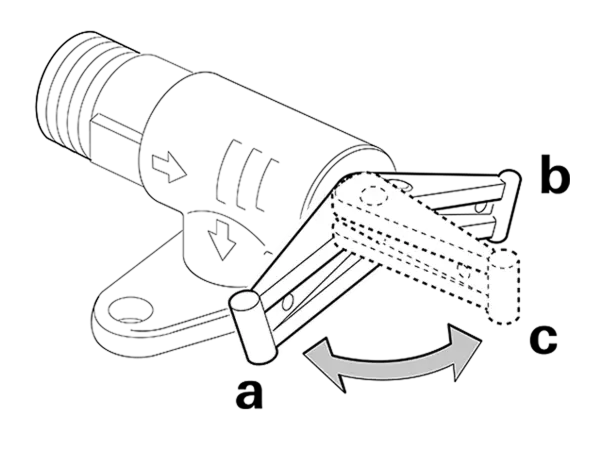 Flip yellow handle "down" to be at a right angle to the drain.
a, b = lever in "valve closed during furnace operation" position
c = lever in "draining" position
d = drainage socket
Step 6: We recommend leaving the drain valve open for the winter season.
Your Truma Combi is now winterized!
We do not recommend the use of high-pressure air or antifreeze solutions when winterizing the Truma Combi. Antifreeze fluid should only be used with an installed bypass kit, refer to the complete manufacturer's manual for more details.
Need More Help?
Watch our step-by-step winterization tutorial
Our Customer Care team is happy to answer any questions, just call 1-855-558-7862 ext. 1 to speak with a representative.